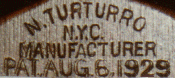 Nicola Turturro
Standard Soprano

Peanut Soprano

Flipover
Ukulele Side
Nicola Turturro was an Italian immigrant to New York who worked as a luthier and inventor, and set up a musical instrument factory to made Ukuleles and other instruments for sale under his own name or OEM for the big New York Distributors like B&J, Bruno and Stadlmair. They all usually came with his name stamped on the back of the headstock though.

The inventor part comes in because he is probably most famous for patenting his Ukulele oddities including the "Turnover" that was a Ukulele one side and a Mandolin the other, and the Double Roundbacked "Peanut" both of which were produced commercially in his factory

There is a lot of evidence that he worked closely with, or was in partnership with Nicola Calace, but photos have proved they were different men and Turturro was not just a New York name change.
---
Please contact me if you have any information or pictures that would improve the page
---
contact Web Administrator if you think your copyright has been infringed